Amazon's Shock And Awe
Yesterday ahead of earnings, AMZN's stock dropped $60, with $30 of that drop occurring in the last hour of trading. It's almost as if market-makers, with their customary preview of the impending AMZN headline EPS report in hand, intentionally took the price down to set-up a short-trap. AMZN stock closed at $1390, down $60 from Wednesday's close.
Shortly thereafter, AMZN's earnings headline showed $3.85/share, more than double the consensus estimate produced by Wall Street's Einstein Center For Earnings Forecasts. $1.85 was the expectation. AMZN's stock shot up to as high as $1480 in after hours, up as much as $90 from the close. Imagine how much money the Big Bank trading desks made assuming they bought all the shares that were sold short in the last hour of trading on Thursday.
Within the first eight minutes of today's open, AMZN stock shot up to as high as $1495, up $105 from Thursday's close. As I write this, AMZN is trading below Wednesday's close of $1450: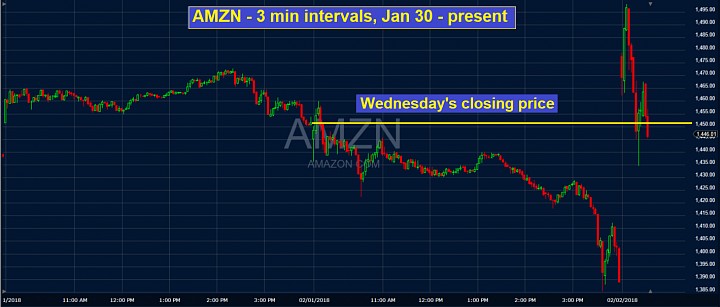 PLEASE CLICK HERE TO READ THE REST: AMZN Shock and Awe