Short Beacon Roofing's Parabolic Move
Beacon Roofing is a distributor of residential and commercial roofing materials. It's a "middle-man" business as it does not do the installations. BECN is one of the stocks that has contributed heavily the parabolic move in the DJUSHB. It has run from$39 to $55 (38%) in just two months. I assume the big gap-up move on August 23rd was from someone's expectation that BECN's sales would boom from hurricane replacement sales. While this may be true, that's a non-recurring source of revenues. It certainly does not justify adding a $1 billion in market cap to the stock. This is especially true since the stock had lost $612 million quickly over the course of the previous month.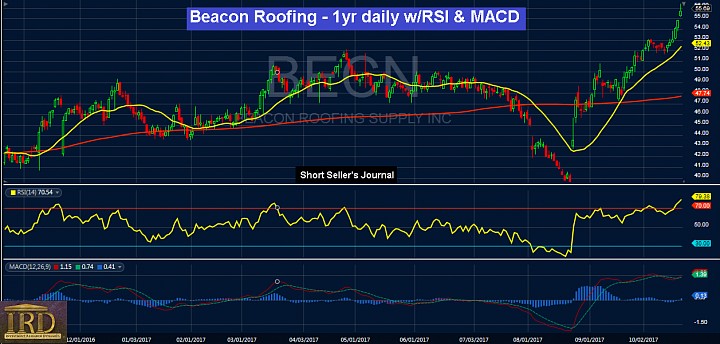 The funny thing about BECN is that, when you review the history of its numbers, the Company does not really generate "organic" sales growth. The growth of the business is a function of acquiring and "rolling up" local roofing supply companies using debt. This is what I call the Drexel Burnham Lambert strategy. Remember Drexel? It specialized in taking middle-man businesses and doing debt-finance "roll-ups." The strategy works well until the economy goes into recession, which is where the U.S. economy is headed. When that inevitability occurs, BECN's revenues will fall and it's ability to service its debt will be greatly diminished. This is likely why the stock was in a tail-spin until the luck of nature gave it a hurricane. Again, this is a one-time source of sales and not a "permanent plateau" of recurring revenues.
The current P/E ratio is 33x and the enterprise value (market cap + debt) to EBITDA is 12x. This is for a company that operates in an industry for which the long term PE ratio is under 10x and the long term enterprise value to EBITDA is under 5x. Even most of Drexel's junk bond deals were done at enterprise to EBITDA values under 10x.
This stock is a great short idea. The stock price bottomed at $7.50 in early 2008. At the very least, the stock should at least sell down within 6 months to where it was trading ($39) before the big hurricane-induced move. I would not be surprised to see the stock closer to $20 than to $50 by this time next year.
As usual, I think shorting the stock outright makes more sense than buying puts. Having said that, the abrupt move higher that was unjustified by rational fundamentals has created an opportunity to speculate on a sell-off in the stock using cheap puts. I'm looking at the January 2018 $45's which were offered a 50 cents on Friday. You can probably pick them up for 45 cents. A retrace back to $40 by expiration would give these puts $5 of intrinsic value. A better than 10:1 pay-off potential is worth the risk of losing 45 cents.
The furthest out the put series go is April 2018. For this trade I think $50 strikes, offered at $2 on Friday are a lower risk/higher probability payoff than puts further out of the money. You can probably buy these puts with patience below $2. This stock just needs to fall to $45 to yield more than a double vs. your cost of the put. You will probably have the opportunity to book this gain well before April.
An interesting "lottery ticket" trade would be the November $50 puts, which were offered at 20 cents on Friday. The Company reports its FY Q4 on November 20th. There's plenty of time for the market to get "cold feet" on this stock before earnings. A $2-3 decline next week should give you at least a double in this trade.